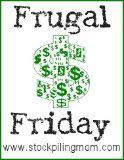 It's Frugal Friday!  Today I wanted to share with you some information on rebates!
Rebates are an excellent avenue for taking your savings to the next level. I normally submit for an average of $75 in rebates each month. There are a variety of rebates that you can redeem. Many stores offer rebates such as WAGS, Kohl's, Ace Hardware, Staples and Rite-Aid. Another great source is manufacturer rebates! These can be found in-store (on a tear pad), online or in the Sunday paper inserts.
An additional source for rebates is through trade.  I use We Use Coupons to trade rebates!  You don't pay for the rebate, all you do is mail a stamp to the person you trade with to cover their postage!  You can check it out at We Use Coupons.
Now one of my favorites is beer and wine and deli rebates.  I found out about these rebates while shopping at Remke's and have really worked them to my favor.  They are found in stores by the product, at the customer service desk or with the cashier (in a liqueur store).  Many states DO NOT require the purchase of beer or wine (including KY)!   They are often for a specific item that you may be purchasing already.  For example, meat and cheese trays, potato chips, hams, turkeys, charcoal or grilling ingredients.  Some stores also offer Deli rebates.  I always stop at the Deli or customer service desk and inquire. A helpful tip: is to check for hang tags on wine bottles and stop at your customer service desk or deli and inquire if they have any rebates available.

You may think rebates are a lot of work but in the end it allows me an additional savings on average of $75.00 per month!  This is why I think Rebates Rock!
Visit more Frugal Friday Tips